« 2006-07 | Page d'accueil | 2006-09 »

29.08.2006
More Digital Distribution!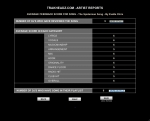 Comme nous vous l'avions annoncer il y quelques jours de cela la distribution digitale explose pour REEL et son album Lithium. Grâce au partenaire CDbaby.com plus d'une trentaine de nouveaux sites vont bientôt avoir REEL et son album online! Pour la vente donc!
Voici donc la liste des divers sites! Il nous est difficile de savoir quand le mini-store de chaque album sera en place, donc nous vous laissons de passer en revue cette liste selon votre convenance:
AudioLunchbox, Arvato, Choice Records, Daiki, Bitmunk, Chondo, Destra, Wrapfactory, PlayIndies, Emusic, MOD Systems, PayPlay, Rhapsody, MPGreek, MusicIsHere, Sony Connect, MP3-Extension, MSN Music, MusicNet, Inprodicon, Liquid Digital Media, GreatIndie Music, iSound, LoudEye-OD2, PassAlong, DigitalKiosk, DigiPie, Mp3Tunes, USEN, BuyMusic, MusicNow, NextRadio, QTRnote, Puretrack, Ruckus, Verizon Wireless, Tradebit, GroupieTunes
Well as said a few days ago new sites are ready to sale REEL and its album Lithium via digital download distribution. Thanks to our partner CDBaby.com the above list will allow to track wherever we are available. Sales can grow now!
Also it is difficult for us to know which is already online with our mini-store, we let you check it out and inform us accordingly!
REEL WEB
22.08.2006
Reelywood!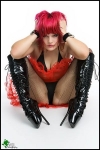 Bonjour à toutes et à tous,
Après ces quelques jours de silence, voici les dernières informations concernant les membres du groupe. En effet le programme fut très riche en musique, en écriture, en travail studio! Dans son ensemble les chansons pour le prochain album sont solidement prêts pour que nous puissions attaquer les parties guitare et chant! Donc le gros du travail restant sera sous la responsabilité de BENE qui va amener un peu la touche finale aux chansons enregistrées. Tout un programme donc! Encore des heures de son devant nous et de moments uniques!
Sinon au niveau distribution nous avons aussi quelques nouvelles puisque grâce au partenaire CDbaby.com le groupe aura plus de 40 nouveaux points de ventes en mode téléchargement digital de l'album Lithium. Une excellente nouvelle car bien sûr plus de visibilité de l'album. On vous communiquera la liste complète dès que possible!
D'autre news suivent encore!
REEL WEB
Hello to you all,
After a few days of silence, here you will have the latest news about the band. Indeed it has been very rich with music, with writing music, with recording! In whole, the album is going well and we could say that all songs are almots in the box. What is still missing are all the guitar parts and vocals. So some big studio work will await BENE giving the final touch to all the songs! Great things to come and long hours in the studio working!
Regarding sales & distribution, thanks to our partner CDbaby.com the album Lithium will be sold through 40 new online point of sales using digital download! That is some true great news for the band as the window of possibilities to sell gets bigger! We will inform you bout those point of sales pretty soon!
More news to come!
REEL WEB
15.08.2006
Playing the Guitar!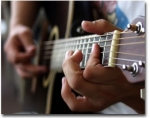 Plein de musique en ce moment dans le studio car tout en repassant chaque bande enregistrée, des parties nouvelles de musique sont composées et jouées pour voir si elles passent avec la base! Un travail très intéressant car tant de possibilités musicales sont permises et totalement disponibles! La vie en musique, rien de mieux!
REEL WEB
So much music in the studio right now as each recorded track is being listened to and new stuff is being added along the way! Ne stuff is being written all the time and what fits is kept! A very intersting job right now as so many possibilities are available and totally free to be used! Life with music, just great!
REEL WEB
11.08.2006
Bringing music to life!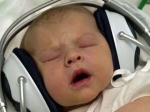 Au sein du studio nous donnons naissance à notre musique. Je précise bien notre musique! La force de REEL est de pouvoir produire sa propre musique selon ses propres critères et cela vaut tout l'or du monde! Il n'y a aucun souci sur comment cela va sonner, cela nait et est enregistré! Tout simplement! La musique est directe, forte et sinçère.
Dans le processus de création du 2ème album et cela tout au long des 16 seizes nouvelles chansons que nous mettons en boite, nous adoptons une nouvelle approche par rapport au 1er. Nous avons mis en boite toutes les bases batterie, basse. Depuis lors nous avons mis maintenant tous les claviers. Le gros du travail est maintenant de mettre en place le pre-mix.
Qu'est-il? Il est en fait un mix intermédiaire permettant d'obtenir l'atmosphère globale des chansons. Donc nous faisons une balance de la batterie, de la basse et des claviers en ajoutant les différents nécessaires pour booster le tout! ce travail va nous prendre pas mal de temps pour la simple raison que le pre-mix est important car il donnera une idée de la couleur finale du produit. Donc si des choix ne sont pas bons, cela aura une influence sur le produit final. Nous passons donc beaucoup de temps à écouter les pistes enregistrées avec attention pour obtenir le meilleur résultat possible!
Dans un 2ème temps nous enregistrerons les prises de guitare qui auront la couleur nécessaire par rapport au pre-mix! Ainsi que les voix! Donc un processus long mais super intéressant!
BENE
Within the studio we bring our music to life! Yes I say our music! The strength of REEL is being able to write, produce its own very music with its own criterias about the wy it should sound, feel and taste! For us all that is true gold What is born is being recorded the way it feels. So simple, true music!
In the making of the second album along those 16 tracks that are being recorded, we decided to work a bit differently than the first. This time even if all drums and bass were recorded the same time, we added now all synths and keys with all special effects that are needed to boost the music. From all that we will work on the pre-mix which is an intermediate step giving the colour direction the songs are taking.
Of course, if the pre-mix is no good that it will have a terrible influence on the final product. So it is a very important and time consuming process. We look in all recorded tapes and take what is best to search for the best mix possible!
The second part will be to record guitar parts that suit the pre-mix! Also the vocals! Long process but so exciting job!
BENE
08.08.2006
Happy Birthday PAT!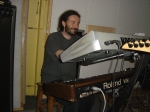 Aujourd'hui nous fêtons l'anniversaire de notre cher PAT, l'homme aux mains d'argent et souvent caché derrière ses claviers pour nous délivrer des notes et des sons venus d'ailleurs!
Happy birthday PAT! Tout le monde à REEL te souhaite que le meilleur pour cette nouvelle année qui commence!
REEL WEB
Today we have the great joy to celebrate the birthday of PAT the man with the silver hands hiding most of the time behind his keyboards bringing us such beautiful sounds and music!
Happy birthday PAT! All at REEL wish you the very best of birthdays!
REEL WEB
03.08.2006
BLOG Rockin'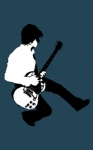 Après une semaine dédiée à la musique sous diverses formes, un petit résumé s'impose! BENE était en route et a rendu visite au groupe Fhobi. Un sacré groupe de romands au rock survitaminé! La répétition fut digne d'un live! Vraiment chapeau pour tant d'énergie!
Le but était aussi de discuter de possibilités de jouer des LIVE ensemble. Pour le moment rien de concret mais les choses bougent assez vite!
Sinon pour BENE cela fut le retour dans son bocal pour travailler la musique et les parties de guitare pour les chansons du nouvel album. Beaucoup de travail et les diverses options choisies vont dans le bon sens. Les prises commenceront la semaine prochaine permettant d'avancer enfin!
Aussi les ventes de l'album Lithium prennent une excellente tournure! La vente en mode digitale est de plus en plus en expansion! Aussi grâce à CDbaby.com le groupe développe encore plus sa présence sur les sites musicaux de la toile internet! des news sur le sujet suivent encore dès que nous aurons pu compiler toutes ces infos!
Merci à toutes et à tous pour votre engagement en achetant la musique du groupe! Merci!
Le monde de REEL rock de plus en plus! ROCK the BLOG!
REEL WEB
It has been a full week dedicated to music and a small summary is needed! BENE went to meet the band members of the band Fhobi. A great band from the suisse romande playing a high motivated type of rock! A chance to see a rehearsal that turned almost in a live show! Just great!
One of the ideas was to talk future possibilities to play live together. Nothing finalized for the moment but news move fast!
Also BENE went back to his pit to work on the music of the songs for the new album. Some good ideas are developped and recording will start next week!
Regarding sales, we have to say that the album Lithium is doing well! What is intersting is that the digital download is picking up strongly. Thanks to CDbaby.com the band has extended even more its potential. A full list will follow as soon as we have matched all the data!
Thank you to you all to have bought the music of the band! Thank you for that great push!
REEL's world rocks more and more! ROCK the BLOG!
REEL WEB
01.08.2006
Swiss national day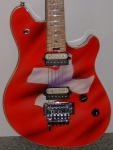 Ici en Suisse cela est un jour de fête national. Chaque suisse peut ainsi sortir un peu sa fibre patriotique! Surtout voir un des nombreux feux et manger un cervelas bien grillé avec une bière super fraîche! Elle peut être belle la vie!
In Switzerland today is our national day! All swiss can feel their patriotic vibe come out. Also they will all enjoy watching those big fires burning through the night and eat a cervelas well grilled with a cool beer! Life can be good sometimes!