29.08.2006
More Digital Distribution!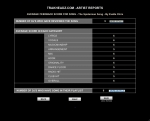 Comme nous vous l'avions annoncer il y quelques jours de cela la distribution digitale explose pour REEL et son album Lithium. Grâce au partenaire CDbaby.com plus d'une trentaine de nouveaux sites vont bientôt avoir REEL et son album online! Pour la vente donc!
Voici donc la liste des divers sites! Il nous est difficile de savoir quand le mini-store de chaque album sera en place, donc nous vous laissons de passer en revue cette liste selon votre convenance:
AudioLunchbox, Arvato, Choice Records, Daiki, Bitmunk, Chondo, Destra, Wrapfactory, PlayIndies, Emusic, MOD Systems, PayPlay, Rhapsody, MPGreek, MusicIsHere, Sony Connect, MP3-Extension, MSN Music, MusicNet, Inprodicon, Liquid Digital Media, GreatIndie Music, iSound, LoudEye-OD2, PassAlong, DigitalKiosk, DigiPie, Mp3Tunes, USEN, BuyMusic, MusicNow, NextRadio, QTRnote, Puretrack, Ruckus, Verizon Wireless, Tradebit, GroupieTunes
Well as said a few days ago new sites are ready to sale REEL and its album Lithium via digital download distribution. Thanks to our partner CDBaby.com the above list will allow to track wherever we are available. Sales can grow now!
Also it is difficult for us to know which is already online with our mini-store, we let you check it out and inform us accordingly!
REEL WEB