22.08.2006
Reelywood!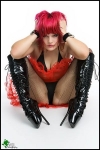 Bonjour à toutes et à tous,
Après ces quelques jours de silence, voici les dernières informations concernant les membres du groupe. En effet le programme fut très riche en musique, en écriture, en travail studio! Dans son ensemble les chansons pour le prochain album sont solidement prêts pour que nous puissions attaquer les parties guitare et chant! Donc le gros du travail restant sera sous la responsabilité de BENE qui va amener un peu la touche finale aux chansons enregistrées. Tout un programme donc! Encore des heures de son devant nous et de moments uniques!
Sinon au niveau distribution nous avons aussi quelques nouvelles puisque grâce au partenaire CDbaby.com le groupe aura plus de 40 nouveaux points de ventes en mode téléchargement digital de l'album Lithium. Une excellente nouvelle car bien sûr plus de visibilité de l'album. On vous communiquera la liste complète dès que possible!
D'autre news suivent encore!
REEL WEB
Hello to you all,
After a few days of silence, here you will have the latest news about the band. Indeed it has been very rich with music, with writing music, with recording! In whole, the album is going well and we could say that all songs are almots in the box. What is still missing are all the guitar parts and vocals. So some big studio work will await BENE giving the final touch to all the songs! Great things to come and long hours in the studio working!
Regarding sales & distribution, thanks to our partner CDbaby.com the album Lithium will be sold through 40 new online point of sales using digital download! That is some true great news for the band as the window of possibilities to sell gets bigger! We will inform you bout those point of sales pretty soon!
More news to come!
REEL WEB