03.08.2006
BLOG Rockin'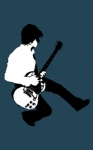 Après une semaine dédiée à la musique sous diverses formes, un petit résumé s'impose! BENE était en route et a rendu visite au groupe Fhobi. Un sacré groupe de romands au rock survitaminé! La répétition fut digne d'un live! Vraiment chapeau pour tant d'énergie!
Le but était aussi de discuter de possibilités de jouer des LIVE ensemble. Pour le moment rien de concret mais les choses bougent assez vite!
Sinon pour BENE cela fut le retour dans son bocal pour travailler la musique et les parties de guitare pour les chansons du nouvel album. Beaucoup de travail et les diverses options choisies vont dans le bon sens. Les prises commenceront la semaine prochaine permettant d'avancer enfin!
Aussi les ventes de l'album Lithium prennent une excellente tournure! La vente en mode digitale est de plus en plus en expansion! Aussi grâce à CDbaby.com le groupe développe encore plus sa présence sur les sites musicaux de la toile internet! des news sur le sujet suivent encore dès que nous aurons pu compiler toutes ces infos!
Merci à toutes et à tous pour votre engagement en achetant la musique du groupe! Merci!
Le monde de REEL rock de plus en plus! ROCK the BLOG!
REEL WEB
It has been a full week dedicated to music and a small summary is needed! BENE went to meet the band members of the band Fhobi. A great band from the suisse romande playing a high motivated type of rock! A chance to see a rehearsal that turned almost in a live show! Just great!
One of the ideas was to talk future possibilities to play live together. Nothing finalized for the moment but news move fast!
Also BENE went back to his pit to work on the music of the songs for the new album. Some good ideas are developped and recording will start next week!
Regarding sales, we have to say that the album Lithium is doing well! What is intersting is that the digital download is picking up strongly. Thanks to CDbaby.com the band has extended even more its potential. A full list will follow as soon as we have matched all the data!
Thank you to you all to have bought the music of the band! Thank you for that great push!
REEL's world rocks more and more! ROCK the BLOG!
REEL WEB