« 2006-06 | Page d'accueil | 2006-08 »

24.07.2006
Astronom!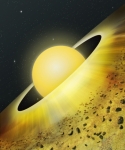 Suite à un reportage TV sur la propagation des ondes télévisuelles et radios dans l'espace, il existe un point dans l'espace d'où il est possible d'entendre et de recevoir ces images. Un retour vers le passé est ainsi possible puisque des images datant d'avant la seconde guerre mondiale se baladent ainsi dans l'espace!
Techniquement, puisque l'émission sur le groupe qui est passé sur Canal Alpha ainsi que les passages radio de la chanson Heat of the Action, REEL est aussi en route dans l'espace ... quelque part ... Certainement nous avons passé la lune en route vers l'espace intersidéral ... REEL dans l'espace .. qui peut croire cela? nous!
REEL
Thanks to a great TV show about the cosmos, we know that radio and TV waves are sent into outer space! So there is a point in space where it would be possible top receive old radio and Tv shows even before the second world war!
Technically as REEL did a show on Canal Alpha and had some radio play of the song Heat of the Action, it would mean that REEL is on route in outer space ... somewhere ... We all hope that at least we would have past the moon by now and continuing our journes towards the stars... REEL in outer space ... Who thought that would be possible? Us!
REEL
18.07.2006
Killing sound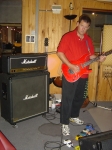 Ces derniers jours furent consacrées à tester le nouveau matériel de musique! Un ampli du tonnerre avec un son riche et lourd qui apportera du coffre et du panache au son de notre guitariste favori! On a frisé l'explosion sonore à plusieurs reprises juste pour vous montrer que cet ampli va booster le son de REEL comme jamais. Tout cela s'en ressentira sur l'album en cours!
REEL
The last days were dedicated of testing the new musical equipment acquired! The amp sounds like thunder with a thick rich and heavy sound! just great to blast some mucical notes out in outer space! We almost reached the sound barrier and REEL's music will be boosted. All this will be felt on the next album!
REEL
11.07.2006
Making magic!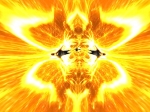 Voilà le break est terminé! Après ces quelques semaines consacrées à la plongée sous marine dans l'un des endroits les plus extraordinaires de la planète terre que sont les îles Cocos et Malpelo et un moment au service militaire au service de la nation, BENE digère encore la coupe du monde! Une défaite amère qui rappelle un peu les lendemains de soirées trop arrosées!
Mais malgré tous ces moments magiques vécus, il est temps de faire un peu de magie musicale! En effet les batteries sont remplies de Lithium power et il est grand temps d'avancer dans la réalisation de ce 2ème album! La gestation peut en paraître longue mais bon tout le groupe est concentré pour faire quelque chose de qualité qui durera dans le temps!
Révision du matériel, quelques modifications techniques que vous découvrirez sur le site ces prochains jours, acquisition de nouveau matériel, tout cela prépare la suite prochaine des sessions d'enregistrement!
Make magic, make reel music!
REEL WEB
So the break is finally over! After the last weeks spent diving in the greatest places on earth which are Coco Island and Malpelo Island. After doing some military service for the nation, BENE is still getting over the world cup!
But those true great moments were just worth it every second of it! Now it is time to make some music magic! Lithium power is at hand and all feel very charged up! It is time to go forward into making the second album. You might say it takes long but the band really wants to do something great and memorable!
Checking all the equipment, some technical modifications have been done which you will see pretty soon on the website, new equipment has been bought, so you can see a lot of investment to make it work, to do great musical sessions!
make magic, make reel music!
REEL WEB
10.07.2006
Fanculidad!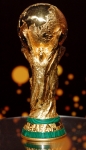 Oh la la!
Que la finale de la coupe du monde 2006 fut un événement digne du nom! En tout cas nous avons pu assister au spectacle de comment perdre une coupe du monde! Vivement dans 4 ans pour de nouvelles sensations mondiales! Par contre dès le 06 septembre prochain les 2 équipes se retrouvent pour les qualifications à l'euro 2008. De quoi faire couler encore beaucoup d'encre!
"Cela fut un très grand moment de football avec deux très grandes équipes. Il est clair que je suis déçu que la France n'a pas pu accrocher cette deuxième étoile sur son maillot. Pour moi la France a plus perdu cette partie que l'Italie l'a gagnée. L'Italie était cuite comme jamais jusqu'à ce moment fatal de la 110ème minute! Enfin ... Les qualifications de l'Euro 2008 approchent déjà et on pourra recommencer de rêver en fonction des matchs " dixit BENE
Le rendez-vous est pris! la Suisse est qualifiée comme pays organisateur et la France commencera dès le 02 septembre prochain! Que la fête du foot continue!
REEL
What a game! Yesterday the final of the world cup 2006 was just splendid in intensity! Well actually wwe saw how a team could lose the world cup! We will have to wait another 4 years to feel some new world sensation! What is great is that both teams meet again as soon as september 6th for the euro 2008 qualification games. A lot of ink will be spread by then!
" It was a really great game with a lot of intensity and things happening. Of course I am disappointed as I hope that France would get a second world star of their shirt! Well I really think France more lost the game then Italy win it! Italy was cooked until the fatal moment of the 110th minute! Well ... Euro 2008 is coming soon and we will be able to dream again and see some great games " dixit BENE
Well the rendez-vous is taken! Switzerland is already qualifyed as organizing country and for France it will start already on september 6th! Let the show continue!
REEL
05.07.2006
Iron Maiden's new album!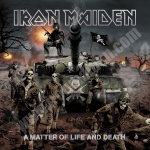 Bonjour à toutes et à tous,
Quelle soirée de football hier soir avec l'élimination de l'Allemagne après un match titanesque! L'Italie gagne le match dans les 5 dernières minutes en marquant 2 fois. Tout simplement superbe! Et en plus deux superbes buts!
Sinon les news du jour sont la sortie en Septembre du nouvel album d'Iron Maiden. Comme vous le savez tous, BENE est un très grand fan de ce groupe et il aura l'occasion de les voir sur la prochaine tournée qui se prépare. " A matter of life and death " est le titre de cet album. Vu la pochette et les commentaires des divers musiciens, il s'annonce comme un album assez sombre! À voir, à écouter et à découvrir donc!
Ce qui est intéressante est surtout de lire sur le site du groupe tout le processus de création de ce nouvel album. Toujours intéressant de voir comment cela se passe. Pour REEL la route du 2ème album est encore longue mais tout le groupe est sur le chemin et suite aux dernières news du studio le tout sonne déjà très bien!
REEL WEB
Hello to you all around the world!
What a night yesterday with Germany losing to Italy 2-0! What a game and what superb goals in the last 5 minutes of action in overtime! Juste brilliant!
Also the latest news is the release in september of the new Iron Maiden Album. As you all know, BENE is a very big fan of the band and will have the chance to see the band live again soon. " A matter of life and death " seems to be a very dark album but all true fans are ready to discover the album and listen to it.
What is really interesting on the band's website is the info about the recording process. Always interesting to see at what speed a band is working. For REEL same issue as making the second album. It takes time but the band's on it. The latest news from the studio is that it sounds great!
REEL WEB
04.07.2006
Soccer sexy!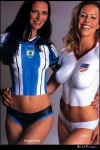 Ah la la que le football peut être riche en sensations fortes! Un peu comme la musique finalement! Notre guitariste/chanteur a vibré comme jamais au cours de ces nombreux matchs de coupe du monde. En effet l'Argentine fut éliminée au tirs au but et la France a réalisé un moment magique contre le Brésil. Pronostic pour la grande finale de cette coupe du monde? "Allemagne - France, cela serait une affiche parfaite! Tant de souvenirs des matchs de 82 et 86. Zidane va venger l'équipe de Platini". Tant de choses à dire et d'espoir dans un moment aussi unique que fou que peut être une coupe du monde! Vive le football!
REEL
Well well well football can be such a great sport bringing some true great vibes! It is a bit like music! Our guitarist/singer got the vibes of a lifetime during all those games played at the world cup. Argentina fell against Germany and France won against Brazil. Some really great games! What is the final for this world cup? "Germany - France! That would be great! So many memories of lost games back in 82 and 86. Zidane will avenge the Platini's team"! Well well let's live all of this and see what the semi finals bring us at hand for the world cup final!
REEL
01.07.2006
PAT is magic!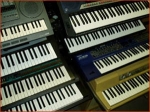 Malgré cette période relativement calme pour le groupe, quelques news du studio! En effet PAT a profité de tout ce calme pour s'enfermer dans le studio et reprendre toutes les nouvelles chansons pour enregistrer toutes les parties synthés, keyboards, orgue er piano. WOW que de travail! PAT a travaillé comme un fou pour donner le meilleur de lui-même créant des textures nouvelles grâce à ses machines de qualité mondiale: Korg Triton et le Roland Phantom X6.
Bravo PAT, tout le monde est super fier de toi! Merci de ton travail et de ton dévouement à la REEL music!
REEL
Even is it is quite calm right now, some news from the studio. Indeed PAT locked himself up in the studio and started to rerecord all synths, keyboards, organ and piano parts on all new songs.
WOW the job done is just brilliant! PAT worked like crazy to get all done with the highest quality possible using his best deadly weapons: KORG Triton and Roland Phantom X6.
Congratulations PAT, all at REEL is proud of you! Thanks for the job done and your devotion to what REEL music stands for!
REEL