08.08.2006
Happy Birthday PAT!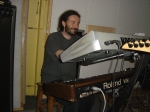 Aujourd'hui nous fêtons l'anniversaire de notre cher PAT, l'homme aux mains d'argent et souvent caché derrière ses claviers pour nous délivrer des notes et des sons venus d'ailleurs!
Happy birthday PAT! Tout le monde à REEL te souhaite que le meilleur pour cette nouvelle année qui commence!
REEL WEB
Today we have the great joy to celebrate the birthday of PAT the man with the silver hands hiding most of the time behind his keyboards bringing us such beautiful sounds and music!
Happy birthday PAT! All at REEL wish you the very best of birthdays!
REEL WEB