01.07.2006
PAT is magic!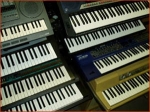 Malgré cette période relativement calme pour le groupe, quelques news du studio! En effet PAT a profité de tout ce calme pour s'enfermer dans le studio et reprendre toutes les nouvelles chansons pour enregistrer toutes les parties synthés, keyboards, orgue er piano. WOW que de travail! PAT a travaillé comme un fou pour donner le meilleur de lui-même créant des textures nouvelles grâce à ses machines de qualité mondiale: Korg Triton et le Roland Phantom X6.
Bravo PAT, tout le monde est super fier de toi! Merci de ton travail et de ton dévouement à la REEL music!
REEL
Even is it is quite calm right now, some news from the studio. Indeed PAT locked himself up in the studio and started to rerecord all synths, keyboards, organ and piano parts on all new songs.
WOW the job done is just brilliant! PAT worked like crazy to get all done with the highest quality possible using his best deadly weapons: KORG Triton and Roland Phantom X6.
Congratulations PAT, all at REEL is proud of you! Thanks for the job done and your devotion to what REEL music stands for!
REEL