05.07.2006
Iron Maiden's new album!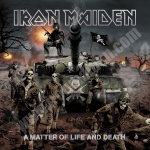 Bonjour à toutes et à tous,
Quelle soirée de football hier soir avec l'élimination de l'Allemagne après un match titanesque! L'Italie gagne le match dans les 5 dernières minutes en marquant 2 fois. Tout simplement superbe! Et en plus deux superbes buts!
Sinon les news du jour sont la sortie en Septembre du nouvel album d'Iron Maiden. Comme vous le savez tous, BENE est un très grand fan de ce groupe et il aura l'occasion de les voir sur la prochaine tournée qui se prépare. " A matter of life and death " est le titre de cet album. Vu la pochette et les commentaires des divers musiciens, il s'annonce comme un album assez sombre! À voir, à écouter et à découvrir donc!
Ce qui est intéressante est surtout de lire sur le site du groupe tout le processus de création de ce nouvel album. Toujours intéressant de voir comment cela se passe. Pour REEL la route du 2ème album est encore longue mais tout le groupe est sur le chemin et suite aux dernières news du studio le tout sonne déjà très bien!
REEL WEB
Hello to you all around the world!
What a night yesterday with Germany losing to Italy 2-0! What a game and what superb goals in the last 5 minutes of action in overtime! Juste brilliant!
Also the latest news is the release in september of the new Iron Maiden Album. As you all know, BENE is a very big fan of the band and will have the chance to see the band live again soon. " A matter of life and death " seems to be a very dark album but all true fans are ready to discover the album and listen to it.
What is really interesting on the band's website is the info about the recording process. Always interesting to see at what speed a band is working. For REEL same issue as making the second album. It takes time but the band's on it. The latest news from the studio is that it sounds great!
REEL WEB