10.07.2006
Fanculidad!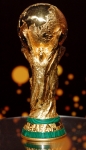 Oh la la!
Que la finale de la coupe du monde 2006 fut un événement digne du nom! En tout cas nous avons pu assister au spectacle de comment perdre une coupe du monde! Vivement dans 4 ans pour de nouvelles sensations mondiales! Par contre dès le 06 septembre prochain les 2 équipes se retrouvent pour les qualifications à l'euro 2008. De quoi faire couler encore beaucoup d'encre!
"Cela fut un très grand moment de football avec deux très grandes équipes. Il est clair que je suis déçu que la France n'a pas pu accrocher cette deuxième étoile sur son maillot. Pour moi la France a plus perdu cette partie que l'Italie l'a gagnée. L'Italie était cuite comme jamais jusqu'à ce moment fatal de la 110ème minute! Enfin ... Les qualifications de l'Euro 2008 approchent déjà et on pourra recommencer de rêver en fonction des matchs " dixit BENE
Le rendez-vous est pris! la Suisse est qualifiée comme pays organisateur et la France commencera dès le 02 septembre prochain! Que la fête du foot continue!
REEL
What a game! Yesterday the final of the world cup 2006 was just splendid in intensity! Well actually wwe saw how a team could lose the world cup! We will have to wait another 4 years to feel some new world sensation! What is great is that both teams meet again as soon as september 6th for the euro 2008 qualification games. A lot of ink will be spread by then!
" It was a really great game with a lot of intensity and things happening. Of course I am disappointed as I hope that France would get a second world star of their shirt! Well I really think France more lost the game then Italy win it! Italy was cooked until the fatal moment of the 110th minute! Well ... Euro 2008 is coming soon and we will be able to dream again and see some great games " dixit BENE
Well the rendez-vous is taken! Switzerland is already qualifyed as organizing country and for France it will start already on september 6th! Let the show continue!
REEL