06.01.2014
The "Monstroso Suite" ...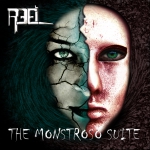 Bonjour tout le monde!
Voici la toute première information sur le groupe pour ce début d'année 2014! En effet le groupe va sortie un EP de 4 titres sous le titre de "The Monstroso Suite". Il s'agit de nouveaux morceaux enregistrés lors des sessions pour l'album "Monstroso" et qui seront donc disponibles sous peu pour tous les fans hardcore. Un petit quelque chose de spécial pour bien commencer 2014 avec une bonne dose de reel music :-)
Plus d'infos sur le contenu de ce EP lors du prochain bulletin
REEL WEB
Hello to you all,
So the very first news of the year 2014 is available. Indeed the band will release an EP of 4 songs under the title "The Monstroso Suite". The EP holds basically 4 new songs recorded during the Monstroso sessions and will be available for all hardcore fans. A special treat to stat of 2014 really well and in reel music :-)
More about the EP is to come so stay tuned!
REEL WEB