31.08.2009
recording ...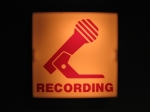 Bonjour tout le monde!
Voici la suite des news en provenance du studio! En effet le travail a bien commençé avec les basses et synthés sur 3 nouvelles chansons! Un bon début :-)
REEL WEB
Hello to you all!
So here are the following news from the studio! Indeed the recording is going on great as the bass lines and synths were put to 3 new songs! A very good start!
REEL WEB