02.09.2009
Leaking ...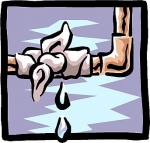 Bonjour tout le monde!
Une mauvaise nouvelle en provenance du studio qui a subi quelques dommages importants dans la régie 1 suite à une inondation provoquée par les pluies de ces derniers jours mais surtout dûe aux travaux qui ont lieu tout autour du bâtiment. Mais plus de peur que de mal, les dégâts au matériel de musique sont mineurs et les opérations pourront continuer prochainement.
REEL WEB

Hello to you all!
A bad news from the studio as due to a sever leak some damages occured to the regie 1. Indeed due to heavy rain but mostly due to the several constructions sites that are around the building where the studio is, leaks have appeared. The damage to the musical tools is minor so it will take a few days to be back on track.
REEL WEB