18.08.2009
Time to make some new REEL music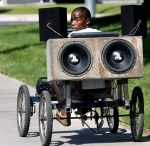 Bonjour tout le monde!
Alors l'activité musicale de REEL a commençé. En effet les musiciens se sont retrouvés et ont pu discuter les diverses compositions existantes. Comme d'habitude les discussions furent riches et tumultueuses car forcément chacun cherche à donner son avis. Mais comme le tout est toujours pour le meilleur du groupe, c'est toujours une situation très intéressante.
Ces prochaines semaines JAY posera ses lignes de basse et PAT profitera de placer ses premiers claviers. La batterie temoin est en place et sonne superbement bien ce qui est déjà une très bonne chose en vue du résultat final :-)
Mais beaucoup de discussions d'ici le résultat final :-)
Restez avec nous et la suite prochainement :-)
REEL WEB
Hi to you all!
So the musical activity of the band REEL has picked up. Indeed all musicians have met in the studio and have discussed all written songs. As usual the talks were very interesting and loud as it is always tought to speak each other opinions but that is the beauty of it because at the end it is for the greater good of the songs. It makes it all more sparkling :-)
The following weeks JAY will lay down his bass lines and PAT will also put the first synths here and there on all songs. The demo drums are sounding just great and gives already a very good picture for the end result even if we are still a long way from it!
So many talks until the final cut which sounds very promising :-)
So stay tuned as there is more to come soon :-)
REEL WEB