17.04.2008
BENE meets FusionMan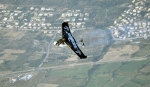 Bonjour à toutes et à tous!
Nous vous parlons aujourd'hui de la rencontre de BENE avec FusionMan il y a quelques jours dans le cadre du service militaire. En effet ils se sont rencontrés et ont pu discuté des activités de chacun. Un grand moment de frisson et d'émotions. Profitez de cliquer sur la photo pour découvrir l'univers reelesque de FusionMan! Amusez vous bien
REEL WEB
Hello to you all!
Today we shortly talk about the close encounter of a special kind between BENE and FusionMan. Indeed a couple days ago both met during their military service and discussed each other universes. A great moment it was. So here for your to discover the reeling of FusionMan to discover by clicking on the picture! Have fun!
REEL WEB