17.12.2007
REEL & Zicmeup.com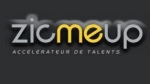 Bonjour à toutes et à tous,
REEL va commencer la nouvelle année en participant au grand concours zicmeup.com 2008. Comme on dit qui vivra verra! Certainement participer sera un élément bénéfique au groupe qui prépare également la promotion de son nouvel album Dominion.
REEL WEB
Hello to you all,
REEL will begin the year taking part in the 2008 zicmeup.com contest. We will see what it will bring! Surely participating to such a contest would be a good thing for the band which is preparing the promotion of the new album Dominion.
REEL WEB