08.07.2007
Tiffen & REEL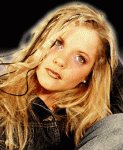 Lors d'une nouvelle précédente, nous vous informions que Tiffen était la coach vocale de BENE. Ceci est toujours d'actualité!
La news du jour est que Tiffen travaille sur de nouvelles chansons et BENE prêtera mains fortes et sera charger d'écrire les paroles de ces chansons. Un vrai challenge pour lui qui travaillera non seulement pour quelqu'un d'autre mais surtout il mettra son talent de parolier au service du voix sublime!
Les news suivront! Restez avec nous!
REEL WEB
Last news given about Tiffen is that she is BENE's vocales teacher and this is still actual!
Now the news of teh day is that Tiffen is working on some new songs and BENE will help out by writing the lyrics to the songs. A true challenge for him! Not only to work for somebody else but to put his writing talent to the service of a great voice!
News will follow! Stay tuned!
REEL WEB