02.07.2007
1000 times ...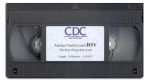 Bonjour à toutes et à tous!
Quelle excellente nouvelle que celle-ci pour commencer le mois de juillet 2007!
En effet la video de REEL "Heat of the Action" a été visionné plus de 1000 fois maintenant sur les sites youtube.com et wideo.fr où elle est à disposition pour être vue et entendue! Tout simplement 1000 fois merci à vous tous!
Continuez de nous soutenir ainsi et lâcher commentaires et votes en même temps! Merci tout simplement!
REEL WEB
Hello to you all!
What a great news to start of the month of July 2007!
Indeed REEL's video "Heat of the Action" has been watched on partner sites such as youtube.com & wideo.fr, more than a 1000 times! That is simply so great and a 1000 thanks to everybody!
PLease keep on supporting the band as you are doing by watching it, leave comments and votes at the same time! Simply thank you!
REEL WEB