30.06.2007
Napster Mobile, Swisscom Mobile & REEL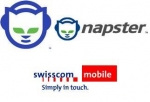 Toujours à la recherche de nouveaux moyens pour promouvoir sa musique, REEL est très content du lancement de Napster mobile sur Swisscom Mobile comme nouveau shop de musique digitale!
En effet Swisscom Mobile a lancé il y a quelques jours en collaboration avec Napster mobile, un nouveau shop de musique digitale full track. Vous pouvez donc accéder au portail Vodafone Live!, entrer dans le shop Napster mobile et télécharger les chansons de votre groupe préféré.
et REEL y est! eh oui aussi incroyable que vrai, REEL fait partie de cette grande et nouvelle famille. Donc à tous les clients et clientes qui possédent un numéro mobile chez Swisscom Mobile, vous avez donc accès au portail Vodafone Live! et au shop Napster mobile. Vous pouvez donc sans aucun souci télécharger toutes les chansons de REEL, provenant de l'album Lithium, directement sur votre télphone mobile et avoir REEL avec vous, tout le temps! Partout!
Pas mal non?
Sinon à toutes et à tous qui n'êtes pas clients chez Swisscom Mobile, le Napster mobile shop va se développe rapidement sur tous les opérateurs du monde et bien sûr REEL et sa musique seront aussi disponibles! Vérifiez donc auprès de votre opérateur mobile local!
REEL WEB
Always seeking for new ways to promote its music, REEL is very happy with the launch of Napster mobile on Swisscom Mobile as a new shop for digital download!
Indeed Swisscom Mobile has launched a couple of days ago in association with Napster mobile a new digital shop for fulltrack download on mobile phones. It is very simple, just go on Vodafone Live!, click Napster mobile and then look for your favorite band.
and REEL is on it! yes indeed we are! Unbelievable but true! REEL belongs to the big family and all customers of Swisscom Mobile can now access the portal Vodafone Live! and go to the Napster mobile shop and dowload REEL's music fulltrack on their mobile. You can have and hear REEL everywhere, anytime, anywhere!
Great isn't it?
But to be sure for all those who are not customers of Swisscom Mobile, the Napster mobile shop will be available soon on many portals of mobile operators, so just check out your local mobile operator if it is available!
REEL WEB