09.04.2007
Vocals are in the box!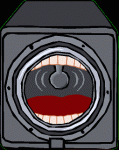 Eh oui ... enfin ... toutes les voix pour les nouvelles chansons sont en boîte! Maintenant le très long processus de couper tout cela et mettre tout en place commence! Il faut ... des ciseaux ... de la colle et du scotch pour recoller tout cela pour obtenir ce dont on rêve!
REEL WEB
Yes yes yes .. so good ... all vocals are in the box! now the very long process of editing can start to have all in the best place possible! What is needed? .. cissors ... some tape ... to cut and put together the best of what can be dreamed for!
REEL WEB