05.04.2007
Wanna rock ?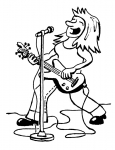 Voulez vous du rock? Voulez vous REEL? Alors rockons!
Cela est le mot d'ordre du groupe en pleine répétition pour les futurs concerts et cela se présente super bien. Le son est pur et clair! Que demander de plus!? Tout simplement votre présence le 28.04 pour ce baptème de feu que sera ce live en Suisse! En tout cas cela sera du bon!
REEL WEB
Do you wanna rock? Do you want REEL? So let's go!
This is t he band's moto during the rehearsals for the future live shows and all is going on really well. The sound is just perfect sharp and clean! What more can be wanted!? Simply your presence on April 28th in Switzerland for that baptism of fire! And it will be good!
REEL WEB