19.01.2007
Happy Birthday BENE!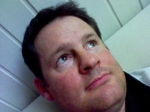 BENE fête son anniversaire aujourd'hui durant son service militaire au sein de la base aérienne de Payerne. Pour toutes les personnes qui seraient dans les entourages, passez lui rendre visite!
Joyeux anniversaire! En tout cas même si cela n'est qu'une année de plus, la flamme du baby rocker brille toujours!
REEL
BENE is celebrating his birthday today at the military air base in Payerne, Switzerland! So if you are not far away, pay him a visit!
Happy birthday man! In any case even if you have one more year on the counter you still have that baby rocker flame!
REEL