22.01.2007
Artwork / Pochette
Après de longs moments de réflexion, de consultations et de découvertes artistiques, la décision est prise concernant la pochette pour le nouvel album. Nous vous faisons donc partager le tableau choisi. Pour BENE, REEL est aussi un tremplin pour travailler avec d'autres artistes comme cela fut pour le 1er album. Il en est de même avec la préparation de ce nouvel album très attendu maintenant. Plus de news sur l'artiste en question suivront prochainement! Pour le moment nous vous laissons apprécier le tableau choisi!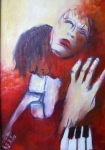 After many times of consultations, viewing and discovering many possible artworks, the decision has been taken for the new artwork for the new album. here by we would like to share that with you.
For BENE, REEL is a platform to work with other artists as it happened with the first album. No reason to change that conceptual approach. And the decision is taken to do the same with the new and now awaited album.
More news about this artist are soon to come!
For the moment fully enjoy the artwork!
REEL