18.01.2007
Speak the word!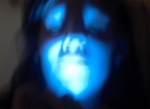 Bonjour à toutes et à tous,
Dans les coulisses du studio le travail avance sans relâche et sans pause. Aujourd'hui les dernières touches aux paroles sont données permettant de finaliser les nouvelles chansons du nouvel album. Nous pouvons dire que tout est prêt pour que BENE puisse poser sa voix sur les chansons et donc permettre aux chansons de prendre une forme quasi définitive. Les sessions voix auront lieu dès le début du mois de février. En attendant le travail sur la conceptualisation visuelle de l'album a aussi commencé. Là le choix est vaste mais une idée assez précise existe restant dans la lignée du visuel développé pour Lithium!
Les news suivent!
REEL WEB
Hello to you all!
Backstage the work is going on well and without any pause. Today the lyrics to the songs will be finalized in order to have a pretty good idea what it would sound like. BENE will then be able to speak the words and do the vocal sessions that will take place starting february. In the meantime the conceptual and artistic approach of the cover for the album will take place. Many choices but already a good idea of what it will look like as the band wants to keep the line drawn with the first album Lithium!
News will follow!
REEL WEB