02.01.2007
Make the guitar scream!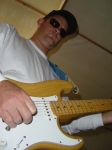 BENE a rajouté quelques heures de guitare supplémentaires pour corriger quelques passages qui étaient moins efficaces sur les nouvelles chansons. Sacrés moments en studio avec de grands instants de rigolades mais aussi du vrai travail musical. BENE trouve d'ailleurs son travail de meilleure qualité que sur l'album Lithium. Certainement le temps et le travail sont responsables de cette situation. Que du bonheur pour la musique à venir!
REEL
BENE added some guitar hours to already correct some recorded parts on the new songs. The main idea was to correct that and add some new great stuff. Great moments on the studio with great laughters and true guitar screaming! BENE already says that the work done is much better then on the Lithium album. Certainly time and work have made a true difference for the achieved work. Pure joy for the music to come!
REEL