01.01.2007
Happy '07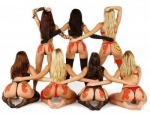 HaPpY NeW YeAr from the REEL cheerleaders!
let's rock in 07!
All the best and take care!
May health, prosperity and of course music be amongst you during the new year! Cheers and Rock!
JoYeUsE AnNéE de la part des REEL cheerleaders!
Rockez à donf en '07!
Que le meilleur pour vous tous et faites attention à vous!
Que santé, prospérité, richesse et bien sûr musique soient parmi vous tous pour cette nouvelle année!
Santé et rockez!