24.12.2006
Merry Christmas - 2006 - Joyeux Noël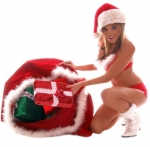 Un petit message de Notre REEL Christmas Sister:
"Au nom de toute l'équipe REEL, des musiciens et de leur musique, Joyeux Noël 2006! A toutes et à tous!
Que la paix soit avec vous, en vous et tout autour de vous! Passez un grand moment et vivement 2007 pour la suite ..."
A small message from our REEL Christmas Sister:
"In the name of the entire REEL team, the musicians and their music, Merry Christmas 2006! To each single one of you!
May there be peace with you, within you and all around you! Have a great time and hope to see all of you ready for 2007
and what is next!"
REEL & BENE, JAY, JUL, PAT