23.12.2006
What a Christmas feast!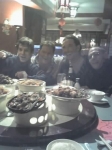 Toute l'équipe de REEL fut de sortie pour fêter Noël ensemble avant de se concentrer sur des projets aussi diverses que multiples. En effet BENE, après avoir terminé les parties guitares, va commencer à éditer toute la musique enregistrée. JAY quand à lui travaill beaucoup avec Cindy en ce moment sur la réalisation de nouvelles chansons. PAT et JUL participant à cela se concentrent aussi sur leur projet le BOTANICAL, formation back up de chanteurs de reggae et seront sur scène le 30.12 du côté de Saint Gall. Donc comme vous pouvez le constater il se passe un tas de choses dans la famille REEL.
The whole REEL team gathered together to enjoy a christmas dinner before concentrating on the multiple project at hand. Indeed BENE will start to edit the music for the new songs. JAY will continue to work some new songs with Cindy. PAT and JUL helping out, will concentrate on their back up reggae band called the BOTANICAL, promoting themselves on the 30th of december live somewhere in Saint Gallen, Switzerland! As you can see a lot is going within the REEL family.
REEL WEB