04.12.2006
Life can be Grand!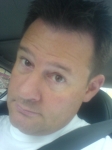 BENE est de retour de tournée! En effet ces derniers jours furent super actifs en événements et découvertes diverses! Voici quelques exemples concrets de ce périple qui l'amena de Suisse à Paris puis à Barcelone avant un retour dans notre beau pays. BENE is back from tour! Indeed the last couple of days have been really active and lot of things were lived and discovered! Here some examples to illustrate all that took BENE from Switzerland to Paris and Barcelona.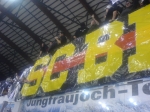 1er arrêt le 75ème anniversaire su SCB, club de hockey de la capitale Suisse qui fut ovationné devant une foule de plus de 16000 supporters! Une ambiance de feu! First stop was the 75th birthday of the hockey team SCB which had a huge stadning ovation in front of more than 16000 people!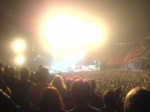 2ème arrêt un événement quasi religieux puisque le groupe Iron Maiden était de passage dans la capitale française. Un autre grand moment devant un Bercy plein! Plus de 15000 personnes étaient présentes à cette messe du rock!
Second stop was that almost religious show given by the almighty Iron Maiden in the french capital. Bercy was full sold out! More than 15000 people were ready for the metal show!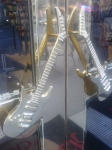 3ème arrêt le Hard Rock Café de Paris! Toujours un grand moment de rentrer dans un temple dédié à la musique rock!
Third stop was the Hard Rock café in Paris! Always a great moment to enter such a place dedicated to the great music of rock!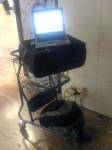 Pit-stop: Voici la définition d'un bureau mobile! Ensuite on ose se plaindre des conditions de travail!
Pit-Stop: Here is a new definition of a mobile office. Who can complain about the job, right?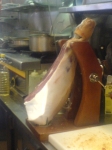 4ème arrêt culinaire cette fois avec la découverte du fameux jambon de Barcelone! Miam miam! Un vrai plaisir pour la bouche et la ligne! Fourth stop was the discovery of the very famous Barcelona Ham! A real treat for the mouth and the body!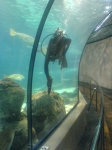 5ème arrêt est sous marin ou la découverte de deux frontières entre le monde terrestre et celui des fonds marins. Grand moment puisque vous savez tous que BENE est un fou de DIVE! Fifth stop is an underwater experience or the discovery of the 2 frontiers! The one between dryland and waterworld! Great moment as you all know that BENE is a true mad diver!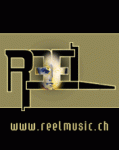 Dernier stop mais le plus important, retour au studio pour continuer de travailler sur les nouvelles compositions qui lentement prennent forme avec un son qui décoiffe! Tout simplement magique! At last but not least, back to the studio to work on the songs as the recording process slowing but surely goes on with that new killer sound! Just magic!
REEL WEB