07.12.2006
Iron Maiden goes gold in Switzerland!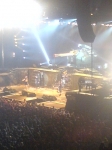 Encore un moment de vrai rock and roll!
En effet Iron Maiden en tournée est passé du côté de Zurich au fameux Hallenstadion qui était pour l'occasion sold out! eh oui plus de 15000 personnes dans cette salle chantant en coeur les chansons du groupe qui annonça que le dernier album "A Matter of Life and Death" fut certifié or en Suisse.
Bravo!
Another great moment of rock and roll!
Indeed Iron Maiden played live on their european tour at the famous Hallenstadion which was for the occasion sold out! Yes more than 15000 fans were there singing on all songs with passion as the band informed everybody that they went gold in Switzerland.
Bravo!
PS: Comme Bruce a dit au public suisse que les horloges suisses déconnent sérieusement car pour Maiden cela sera toujours "2 Minutes to Midnight". As Bruce said, Swiss time is completely off course as it will always be "2 minutes to midnite" for Maiden!
REEL WEB