25.11.2006
Hi!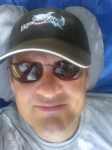 Bonjour à toutes et à tous. ici BENE en ligne! En ce moment je profite de quelques jours de vacances avant de retourner en studio pour attaquer la suite des nouvelles chansons. Je peux dire que nous avancons bien. Des chansons comme "Walk The Fire" et "Turning Circles" sont presques prêtes mais il reste encore pas mal de travail devant nous avant d'avoir tout cela terminé, fini et prêt pour vous!
Vous ne serez de très loin pas déçus! Je vous le promets!
BENE
Hello to you all, here is BENE on the line! I take a few days off to rest a bit before going back to the studio to work on the new songs. Until now I have to say wew work well and all is going on pretty well also. Songs like "Walk The Fire" and "Turning Circles" are almost finished and they rock! But still much work too be done but we are doing our best to have it ready, finished all for you!
You won't be disappointed, this is a promise!
BENE