15.09.2006
MX3 & REEL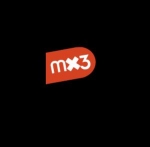 Bienvenue sur MX3! Le nouveau portail Suisse de la musique!
En effet REEL y ouvre sa petite fenêtre musicale avec 5 morceaux à écouter et à découvrir! Vous pouvez même en télécharger quelques unes! Venez donc nous voir sur le site en cliquant l'image et bon voyage musical!
Ce site ouvre aujourd'hui et va représenter quelques 700 artistes en provenance de la Suisse!
REEL WEB
Welcome on MX3! The new swiss musical portal!
Indeed REEL has opened its page with 5 songs from the album. Songs you can discover and listen too. Even free download is available! Just click on the image and enjoy your musical trip with us!
This site opens today and will represent over 700 artists coming from all around Switzerland!
REEL WEB