21.04.2006
DO NOT ENTER the secret room!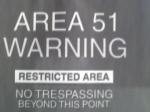 Le studio s'est transformé en Area 51 hier soir lorsque nos 4 musiciens chéris se sont enfermés pour quelques heures de discussions intenses. En effet, il y avait pas de choses à discuter surtout concernant les futures performances LIVE qui sont en cours de préparation. Quel matériel faut-il? Quelle configuration pour chacun? Les besoins de chaque musicien etc ... Donc pas mal de choses à mettre sur le papier permettant au management de prendre les choses en mains afin que les 4 puissent s'épanouir sur scène dans le plus belle des cacophonies sonores! Nous pouvons juste vous dire que les choses se présentent à merveille. Ainsi les dernières dates pour enregistrer les basic tracks des nouvelles chansons sont décidées. Les information suivront sur le site!
Stay Tuned to REEL!
REEL WEB
Yesterday the studio became Area 51 when the 4 musicians entered the room locking all doors for some hours of discussions. Indeed many things needed to be discussed especially when planning future LIVE events. What type of material is needed? Which configuration each musician requires? etc ... all is down on paper now and brings a lot of work for the management helping our 4 musicians to play LIVE and explode in REEL cacophonia music! All seems to go well between all of them! Also the last dates are known regarding the recording of teh basic tracks for the new songs. Additional information will follow!
Stay tuned to REEL!
REEL WEB