22.04.2006
Souris d'Or - Golden Mouse 06 !?!?!?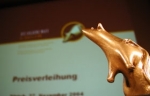 Un autre événement dans le vie du groupe REEL et du site plus particulièrement. En effet comme vous le savez tous, le site du groupe est en fait un weblog ou plus connu sous BLOG. Le site fêtera prochainement une année d'activité depuis son lancement le 02 mai 2005 et vu le nombre de gens qui le visitent, posent des questions, laissent des commentaires, cela nous a motivé pour participer au Golden Maus 06.
De quoi s'agit-il?
Féliciter et récompenser les meilleurs blogs suisses et nous participons dans la catégorie la plus vaste possible celle de la culture! Alors la questions sont ouvertes: La musique est-ce de la culture? La vie d'un groupe de musique est-ce un événement culturel? Alors nous aurons la réponse prochainement!
De toute façon le but est de participer et nous vous informerons du résultat même si nous terminons premier ... en commençant par la fin de la liste!
REEL WEB
A new event in the life of the band REEL or its website to be more precise. Indeed as you know the band's website is actually a weblog better known as blog. The site itself will celebrate soon 1 year of existence since the launch on May 2nd 2005. And as you are so many visiting the site on a monthly basis, aksing questions, leaving comments, we were quite motivated to partipate to the Golden Maus 06
What is it?
Well it is an event that gives an award to the best swiss blogs. We will participate in the most vast category which is culture. Now a few questions are open to you to answer: Is music culture? is the life ofthe band members a culture event? well the answer from the jury will follow woon!
Anyway even if we finish first or last, we will inform you about it and tell you all!
REEL WEB