10.03.2006
Rocking in the pit!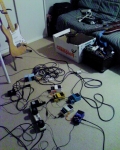 Voici quelques news depuis le bocal de BENE!
En effet comme on peut le constater le matériel de musique est déployé pour dépasser le mur du son une fois encore!
Cela fut une semaine de musique intense dans ce lieu devenu mythique! En effet des notes furent jouées à outrance! Des idées pleines la guitare ... En tout cas les perspectives de musique sont multiples et intéressantes! La composition va bon train ainsi que la répétition des chansons qui sont en train d'être enregistrées en studio! Que de musique devant nous!
REEL WEB
Here some news from BENE's pit!
Indeed all the musical elements are in place to explore the wall of sound!
It was a very intense musical week in the pit! Long musical pieces were played and intense new musical ideas were developped ... Very interesting stuff for the future! The songwriting is working well and of course the rehearsals for the new recorded songs are going in the right direction! So much music ahead of us!
REEL WEB