12.03.2006
iTunes Music Store welcomes REEL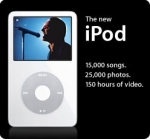 Voilà cela est chose faite!
Depuis ce matin, REEL et l'album LITHIUM sont accessibles sur ipod grâce au iTune Music Store! Il a fallu être patient mais cela est une chose réelle et totalement super génial! L'album est donc accessible sur tous les sites iTunes du monde! Chose incroyable il y a encore quelques semaines et maintenant cela est chose faite!
Merci à toutes et à tous de votre soutien au quotidien! REEL décolle et cela grâce à vous tous!
REEL
It is done!
Since early this morning, REEL and the album LITHIUM are available for ipod thanks to the iTunes Music Store! Patience was necessary as we have been waiting since weeks to have that confirmation but now it is real. It is real for all iTunes shops around the world. Just unbelievable a few weeks ago, now it is true!
Thanks to all of you for your daily support! REEL takes off and all thanks to you!
REEL