27.12.2005
The REEL musicstore is now OPEN!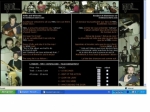 Voici une excellente nouvelle pour vous tous!
Le REEL musicstore est maintenant ouvert et totalement disponible, selon votre convenance, pour la vente directe des chansons de REEL ou de l'album LITHIUM.
Pour cela une seule adresse: http://www.reelmusicstore.com ou cliquer ici REELMUSICSTORE
Toutes les chansons sont en format mp3 128k/44000Hz soit un format idéal pour le digital download qui vous permettra d'écouter sur vos ipod, balladeurs ou mp3 sticks la musique de REEL avec la meilleure qualité possible!
Sinon pour tous les fans de musique qui aiment le produit fini avec pochette et paroles, vous pouvez commander le CD qui sera ensuite livré chez vous directement! Rien de plus simple!
Le REEL musicstore est le magasin parfait pour vos achats! En vous remerciant de votre confiance et de votre fidélité ici sur le site!
REEL MANAGEMENT
Here is a great news for you all!
The REEL musicstore is now open and at your full disposal to buy directly the songs from the album or the album itself!
One address you need to know: http://www.reelmusicstore.com ou just simply click here: REELMUSICSTORE
For those who wish to buy the songs on digital download mode, the songs are in mp3 128k/44000Hz format which makes it great on ipods, mp3 players or PC and REEL's music can be enjoyed at its best!
For all those who love the artwork and wish to have the CD with the leaflet/lyrics it is also possible to buy the CD itself which will be sent to you wherever you live!
The REEL musicstore is the real true shop next to you bringing you REEL's music even closer!
So get ready to do some shopping and we already thank you for your support and trust here on the band's website!
REEL MANAGEMENT