26.12.2005
Phontastic.ch and Cede.ch are REEL's news partners in the Swiss market

Voici encore quelques nouvelles extraordinaires!
En effet REEL a signé un partenariat pour la distribution de l'album LITHIUM pour les marchés Suisse & Liechtenstein avec Phontastic.ch e& Cede.ch. Ces 2 sites sont très connus en Suisse! 2 points de ventes qui permettront à LITHIUM d'être vendu en copie CD facilement, directement et sans intermédiaires!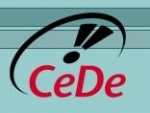 Le plus grand avantage est que phontastic.ch & Cede.ch sont des shops online très visités! Ils sont aussi ouverts en plusieurs langues: anglais, français, allemand etc .... ce qui les rend très internationaux aussi!
Finalement les seuls et vrais shops si proches de chez vous! Des sites simples d'utilisation, commandes rapides et livraisons immédiates!
Des vrais partenaires pour REEL!
Nous vous communiquerons dès que les liens directs sont connus!
REEL MANAGEMENT
Here are some additional great news!
Indeed REEL signed a distribution partnership with phontastic.ch & cede.ch. Those 2 very well known websites in Switzerland will distribute LITHIUM for the swiss and Liechtenstein markets! You will be able to get a hold of the CD very easily! Those wesites are very well visited! also available in many languages such as german, english, french make them truely international!
And the best part is that those sites are very easy when you order! That makes them the best shops near you ... the only shops near you!
For REEL true great partners!
We will communicate you the links as soon as we get them!
REEL MANAGEMENT