24.12.2005
A REEL Christmas to you all!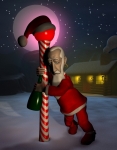 Toute l'équipe de REEL vous souhaite un excellent Noël 2005! Meilleurs voeux à toutes et à tous de la part de notre Père Noël et ses amies! Tout de bon, nous vous souhaitons que le meilleur en cette saison de fêtes!
All the REEL team wishes you a merry Christmas 2005! best wishes to you all from our Santa Claus and friends! The very very best to you all and we wish you a great holiday season!
REEL