17.11.2005
Poinch & REEL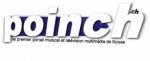 Une prise de contact récente se finalise entre le groupe et le site poinch, le premier portail musical et télévision multimedia de Suisse!
En effet le groupe prépare sa présentation avec ses éléments de communication via le site qui devrait aboutir sous une forme d'interview et donc de visibilité média dans un avenir proche! Le contact fut très sympathique et chaleureux. Nous avons hâte de voir le résultat final et nous vous tenons bien sûr au courant dès la parution d'un article ou d'une information sur le groupe!
A meeting took place between the band and the site poinch, the first musical and multimedia TV portal in Switzerland!
The band prepared an interview which offer some additional media visibility in the near future! The meeting was cool and friendly! We are eager to see the result and of course we keep you informed when anything is published about the band!
REEL WEB