18.11.2005
CDBaby.com is the place to be for REEL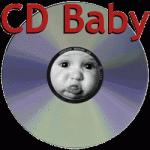 Une information extraordinaire vient de tomber pour le groupe!
En effet et cela grâce à CD BABY, le groupe va avoir son tout premier point de vente worldwide! CD baby est une entreprise basée aux USA qui s'occupe de la distribution d'artistes indépendants qui peuvent ainsi grâce à un service de toute première qualité, vendre le CD physiquement mais aussi en distribution digitale! CD baby possède pas moins de 25 partenaires différents où la vente de l'album Lithium sera prochainement possible. La communication de cette liste vous parviendra dès la finalisation de tout!
Le contrat est signé ce qui est bien sûr l'étape la plus difficile! La mise en place du service prend encore du temps puisqu'il dépend de la production finale du CD. Mais comme d'habitude nous vous tiendrons au courant dès que le lien direct est connu vous permettant de consulter le site ainsi que l'espace prévu pour le groupe!
A true great news is available for the band!
Thanks to CD BABY a US based company promoting independent artists, the band will have its very first point of sales for both physical CD sales and digital distribution sales and this worldwide! CD baby has more than 25 different partners increasing the point of sales list. Of course as soon as all is finalized we will inform you about the direct link to the site an all other partners where Lithium will be available soon!
The hardest step was to sign the agreement and it is done! Now all is just again a question of time by putting all in place and start the worldwide communication. For the band the best thing that could happen for the release of the album! We will inform you as soon as possible about all new stuff going on for the sales and distribution!
REEL WEB