29.10.2005
A day to remember!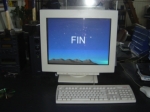 Today is a day to remember as we have done all that is possible for the album "Lithium" to sound as good as it can be!
Now we await the true judgement of the mastering day!
It is with sadness that the recording sessions are concluded for "Lithium" ... well it is until next time ... Next time? yes sure .... there will be another album ... For the moment "Lithium" will live its live among you all and hope that the album bring the satisfaction we put into making it!
Aujourd'hui est un jour dont nous allons nous souvenir toute une vie!
En effet tout fut fait pour que "Lithium" sonne le mieux possible. Nous attendons maintenant le fameux jour de mastering comme notre jugement dernier!
Cela est avec une grande tristesse que les sessions enregistrement pour Lihtium prennent fin... jusque la prochaine fois ... La prochaine fois? eh oui ... il y aura un autre album ... mais pour le moment laissons "Lithium" vivre sa vie auprès de vous et nous espérons que l'album vous apportera autant de plaisir à le découvrir que nous à le réaliser!
REEL BAND