30.10.2005
Have a nice day!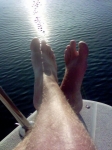 Aujourd'hui est une journée relax.
Certainement un des derniers jours de beau temps avant la longue période hivernale se présentant à nous!
Donc aujourd'hui cela fut une journée relax avec un peu de bateau. La température clémente en cette fin de saison contraste un peu aussi. Ces derniers jours furent très remplis. L'album arrivant à son terme et en attendant l'échéance de mardi pour le mastering, le temps parait presque long! Mais il y a encore tant de choses à faire et préparer pour la sortie de l'album ... Donc aujourd'hui est simplement une journée relax pour profiter de la vie et du soleil!
Excellente journée!
Today is a relaxing day and one of the last nice before the coming winter which lies ahead of us. So today was a day to do some boating! The temperature is so nice and warm that it feels just great.
The last days of the recording were pretty much intense and now all there is is the waiting of the mastering on tuesday. It seems almost like empty! But there are still so many things to do and prepare for the album's release that today is a day to enjoy fully!
Have a nice day!