20.11.2005
Lonesome Guitar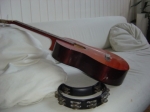 Well well well right now it is so damn busy that I don't even have time to play the guitar anymore and work on some songs!
Shame on me!
But do not worry soon enough everything will be back to normal as writing songs is so important for me that my guitar will not stay lonesome very long.
Take care and keep rocking!
Eh bé eh bé eh bé ... ces derniers temps furent super chargés en travail pour le lancement de l'album que j'ai fini par en oublier ma guitare!
Mauvais point pour moi!
Mais soyez en sûr, très prochainement elle ne me quittera plus du tout car jouer, composer, répéter feront partie du quotidien! Elle ne sera plus seule longtemps!
Restez cool et merci de nous suivre au quotidien!
BENE