21.11.2005
Ninja KING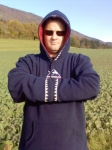 Aujourd'hui je me sens comme un roi dans ma tenue de Ninja! La raison en est très simple: Le grand moment tant attendu est tout tout tout proche. En effet aux alentours du 10 décembre prochain l'album sera prêt, terminé, emballé et à disposition pour la vente. Ce sera un tout grand moment car il représente la finalisation d'un travail de plus de 6 mois!
L'album est grand et majestueux! En fait il n'y a pas de mots pour exprimer ce qui est ressenti. L'attente fut longue tout au long de ces dernières années et aujourd'hui le rêve est réel!
Sur terre et dans la vie on ne se souviendra de nous que par ce que nous laissons derrière! Lithium est notre témoignage à la grande religion qu'est la musique!
La fierté du travail accompli est immense ... Le sentiment est enivrant! Que l'album vous apporte autant de joie et de bonheur que cela fut pour moi en le réalisant!
BENE
Today I feel like a king in my Ninja suit! The reason is quite simple: The expected moment has finally arrived as on December 10th the album will be here ready to be discovered, to be sold, ready to belong to you all! It will be a true great moment after more than 6 months of hard work!
The album is majestuous and great! I do not have any words to express how I feel but it is a true great pride to have achieved it! The years of waiting are worth every second spent recording the album.
On earh and in life we are only remembered by what we leave behind and Lithium is our testimony to the great religion of music!
I am damn proud of the work done ... Just to think of it gives me a reeling sensation! Let the album bring you as much joy and happiness and it gave me doing it!
BENE