21.10.2005
The day I opened my ears!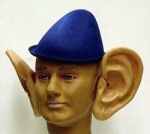 Voilà le moment tant attendu est enfin arrivé. L'écoute du CD demo arrive à sa fin puisque demain nous procéderons aux dernières corrections permettant de créer le fameux CD master. En effet demain sera sussi une grande journée puisque nous procéderons à la coupe finale de ce fameux CD qui servira ensuite de support pour le processus de mastering.
Grand moment de studio en perspective. Il y a encore quelques corrections à faire ...pas beaucoup au moins ce qui est très positif ... On a travaillé avec qualité et cela se ressent quand même dans le résultat final!
Donc demain nous procéderons chanson par chanson, piste par piste au nettoyage final permettant de finaliser chaque chanson! Ensuite nous déciderons de placer les chansons dans l'ordre du CD, on mesurera le temps entre les chansons afin de ressentir l'album au mieux ... comme si nous étions un auditeur qui découvre le CD pour la toute 1ère fois! Eh oui le temps entre les chansons importe beaucoup car il donne le rythme et finalement la vie d'un album pour un auditeur!
Ce travail s'annonce méticuleux car l'erreur n'est pas possible! Corriger cela prendrait un temps fou ce qui est bien sûr une source de perte de temps pour tout ce qui suivra cet événement! Mais nous y sommes .... que de chemin parcouru depuis ce tout 1er jour d'enregistrement ... nous y sommes enfin ... le final cut est proche!
The time has come! We finished listening to the CD demo and tomorrow we will go back to the studio to make the little corrections needed, to cut the last mistakes. After that we will be able to create the famous CD master! It is this CD that will be the basis for the mastering procedure!
So it will be another bog day in the reel's life! Only a few corrections and mistakes to take care of which proves us that we have worked all these weeks with great quality.
So tomorrow, song after song, line after line we will do that final check and wipe out all that is wrong, bad etc ... the each song will be completed. We will work on the songs selection: the famous aorder in which they will appear on the album. We will go into details by evaluating the time between songs as this part is quite essential. The timing between songs gives a CD the rythm and the life. For us it will feel great as we will all become a true listener!
This job takes time and patience. It is not something that can be done fast. We want to make sure that the master CD is perfect as making correctiosn afterwards is time consuming! But at last we are there ... not at the final destination .. but the end is near ... such a long way since day one of the recording ...but a true adventure ... The final cut is very near!
REEL