20.10.2005
ARE WE THERE YET ???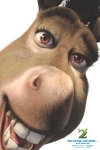 Today I feel like a donkey! Why? well ... guess ... are we there yet???? I listened to the CD demo at least a 100 times ... and it feels good ...but it is not the end yet ... going to the kingdom of far far away to finalise a record ? well ... I am on the way there that is sure ... crazy how time can seem long and sometimes so fast ... all is relative!
Aujourd'hui je me sens un peu comme un donkey! Pourquoi? la raison en simple ... ai écouté le CD demo au moins une bonne centaine de fois ... et l'album sonne super bien ... mais cela n'est pas encore la fin du chemin ... ai vraiment l'impression que je suis sur la route pour le royaume du pays très très lointain ... mais bon ... suis sur cette route ... ce qui est fou est comme le temps peut paraitre long et court à la fois ... tout est relatif!
BENE