23.10.2005
Final Cut!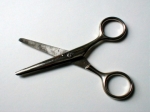 Le moment tant attendu est enfin tombé!
Hier nous avons travaillé toute la journée à passer au peigne fin chaque morceau pour slicer une dernière fois toutes les imperfections constatées lors de notre longue séance d'écoute de ces derniers jours. Un coup de slice par ici, un coup de slice par là et hop chaque morceau à maintenant son final cut!
Qu'est ce le fameux final cut?
Alors le CD master est préparé de la manière suivante:
Nous avons mis dans l'ordre de passage tous les morceaux. Ensuite nous avons écouté toutes les fins de chaque chanson pour ressentir le passage de l'une à l'autre. Nous avons ensuite rajouté un temps tampon entre chaque morceau (une valeur de 0 à 3 sec selon les passages). Ce temps tampon va donner le vrai rythme de l'album en fonction du tempo des chansons etc ... Une fois ce travail terminé nous avons obtenu le CD master qui ne doit ni être touché, ni écouté afin qu'aucune trace de poussière ou de doigts se retrouvent sur le CD. Bien sûr nous avons produit des copies. Le final cut a lieu .... l'album est dans la boîte!
LITHIUM est vivant! REEL EXISTE!
The time has come!
Yesterday we spent the whole day in the studio going through each song one last time and sliced a bit here & there to have the final song version. Each song has now its final shape and we proceeded to the final cut!
What is the final cut?
Well in order to have the CD master you have to follow the next steps:
We have put the songs in the order of listening on the CD. Then we have listened to the end of each song to feel the time space from one to the other. We decided to add a time delay between songs (the time delay can go from 0 to 3 sec) which helps the album to have its balance, its feel between fast and slow songs. It gives the pace and rythme to the album. Once this is done, we have the CD master which can not be touched nor listened to to avoid any fingerprints, dirt on it ... Of course we made copies of it to be able to listen to it ... We have the final cut, the album is in the box!
LITHIUM is alive, REEL exists fully!
REEL WEB