04.10.2005
Sessions "Lithium": new dates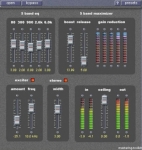 Here are the new dates for the "Lithium" sessions: 09.10 and 13.10 - regarding our timetable, those sessions should be enough in order for us to complete the master CD which then will go into the mastering process!
Voici les nouvelles dates pour les sessions "Lithium": 09.10 et 13.10 - selon notre planning ces sessions devront être les dernières permettant la finalisation du fameux master CD qui passera ensuite le processus de mastering!
Stay tuned!
REEL Music is coming to you ... very soon!
REEL WEB