05.10.2005
Nouvelle adresse web & email, New web & email address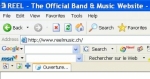 We had to make some modifications regarding email and web address:
www.reelmusic.ch is born and is the official address of the band. The other web address which is www.i-reel.ch will remain in place as some of you know it and we wish to give you some time to adjust your favorites and bookmarks!
info@reelmusic.ch will be the new email address allowing you to write us or any members of the band. you have the chance to ask questions, etc ... We will give you an answer!
Comme vous pouvez le constater quelques modifications furent nécessaires pour les adresse web et email:
www.reelmusic.ch est le site du groupe! L'ancienne adresse www.i-reel.ch restera ctive aussi longtemps qu'il sera nécessaire pour vous de modifier vos favoris et signets!
info@reelmusic.ch sera la nouvelle adresse email pour vous tous de communiquer avec nous ou les membres du groupe et de poser toutes les questions souhaitées... Nous vous donnerons toujours une réponse!
REEL