02.10.2005
Slicing & Mixing Time!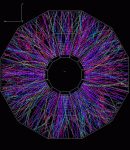 Hier nous avons terminé d'éditer toutes les voix de toutes les chansons de l'album "Lithium". Incroyable mais vrai!
Le temps est venu pour commencer le plus beau job qui existe que peut être le mixing. Bien sûr on va slicer encore un peu les différentes waves de tous les morceaux pour ne garder que le meilleur du meilleur et donc quelques coupes seront encore les bienvenues. Mais le plus gros du travail sera de mixer, d'harmoniser et bien d'équaliser ces fameuses pistes pour obtenir la meilleure balance possible!
Yesterday we finished editing all voices for all songs. Unbelievable but yet true!
The biggest challenge is yet to come! mixing will start tomorrow bringing the final touch to the album. Of course some slicing needs to be done, meaning to cut here and there some waves and some parts to keep only the best of the best of all waves! "Lithium" comes to life at last!
REEL WEB